February 24, 2015
Telephone Peer Support Improves Postpartum Depression
the Psychiatry Advisor take:
New mothers suffering from postpartum depression can benefit from telephone-based support from mothers who have recovered from the condition, according to a study published in the Journal of Advanced Nursing.
After seven weeks of peer support, symptoms of postpartum depression were seen in less than 10% of participants, all of whom had depressive symptoms at baseline.
The study included 64 mothers who had been diagnosed with postpartum depression up to two years after giving birth. The researchers recruited volunteers who had previously suffered from postpartum depression. The volunteers were trained to offer telephone-based peer support to the participants. The average follow-up period was 14 weeks with approximately nine calls during this time.
The researchers chose not to use a control group because they felt that ethically, they would have to refer any depressed mothers to treatment. Since the control group would be receiving treatment as well, it would make it difficult to assess what treatment aspect contributed to symptom improvement.
At baseline, all of the participants had moderate depression. After seven weeks, 37 mothers completed the follow up, and only 8.1% reported symptoms of depression. After 14 weeks, 11.8% of 34 mothers reported postpartum depression. While this does indicate some relapse, it still shows significant improvement from baseline.
Since not all of the mothers benefited from the peer support, the results suggest that some cases of postpartum depression will still require medication or other forms of treatment.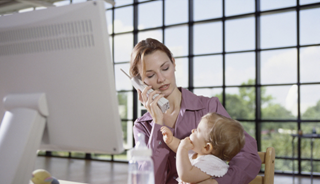 Telephone Peer Support Improves Postpartum Depression
Approximately 9-16% of new mothers in the U.S. experience postpartum depression. But according to a new study published in the Journal of Advanced Nursing, telephone-based support from mothers who have recovered from postpartum depression could be an effective way to help new mothers with the condition.
Postpartum depression, also known as postnatal depression, is a period of distress that can occur in a woman after she has given birth. Onset is most common during the four weeks after delivery, but it can develop up to two years after delivery.
Symptoms of the condition vary in each woman, and can include irritability, anxiety, lack of concentration and energy, feelings of worthlessness or guilt, feeling disconnected from others and even thoughts of death or suicide.
Sign Up for Free e-newsletters