August 26, 2015
Heavy Smartphone Use While Depressed Can Make Things Worse
the Psychiatry Advisor take:
Although many depressed people look to their smartphones for relief from their symptoms, relying on them may actually make things wose.
Jung-Hyun Kim, Sogang University, Seoul, South Korea, and colleagues Prabu David, PhD, of Michigan State University, and colleagues found that people with depression often have problematic use of mobile phones, a term dubbed PUMP. In particular, this population may rely on their phones to alleviate negative feelings, and spend too much time on communication activities via their phones.
Habitual use of a smart phone is usually done for one of two reasons. To pass the time or entertain, or to alleviate feelings of sadness or depression by seeking out others. It's the second reason that is troubling.
However, engaging in more face-to-face interaction can stem the development of PUMP, the researchers reported in the journal Computers in Human Behavior.
"Problematic use of mobile phone is fueled in part by the purposeful or deliberate use of the mobile phone to relieve or alleviate negative feelings," said Prabu David, PhD, of Michigan State University, who worked on the study, "whereas habitual or ritualistic use to pass time is not strongly associated with it."
The researchers say that using a mobile phone in moderation is fine, but not at the expense of avoiding face-to-face interaction.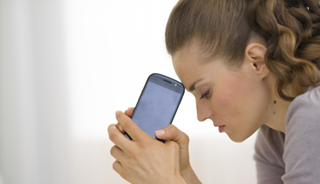 Depressed people who use smartphone to alleviate negative feelings are better off with face-to-face communication.
Depressed people who turn to their smart phones for relief may only be making things worse.
A team of researchers, that included the dean of Michigan State University's College of Communication Arts and Sciences, found that people who substitute electronic interaction for the real-life human kind find little if any satisfaction.
In a paper published in the journal Computers in Human Behavior, the researchers argue that relying on a mobile phone to ease one's woes just doesn't work.
Using a mobile phone for temporary relief from negative emotions could worsen psychological conditions and spiral into unregulated and problematic use of mobile phones, or PUMP, said MSU's Prabu David.
Sign Up for Free e-newsletters
Check out what's trending