December 08, 2014
Sitting for Long Periods at Work Contributes to Anxiety, Depression
the Psychiatry Advisor take:
Sitting for a long time while working may not just contribute to having a bad back or obesity. It can also lead to mental distress, including anxiety and depression.
Michelle Kilpatrick, a PhD student at the University of Tasmania in Australia, and colleagues, analyzed data from more than 3,300 government employees that took part in a health outreach program.
As part of the program, participants were asked to complete a psychological assessment on anxiety and depression over the past four weeks, as well as levels of physical activity, leisure-time activities, and overall job satisfaction.
Employees who reported sitting for more than six hours per day had increased prevalence of moderate symptoms of anxiety and depression compared to those who reported sitting for less than three hours a day, the researchers reported in the journal Mental Health and Physical Activity.
While male workers reported sitting, on average, for nearly five hours a day while women averaged four hours daily sitting, women reported more psychological distress.
Another interesting finding was that going the gym didn't protect workers from the negative impact of sitting. If people sat for most of the work day, even if they were physically active and getting exercise in their free time, they still had relatively higher rates of anxiety and depression symptoms than workers who sat for less than three hours daily.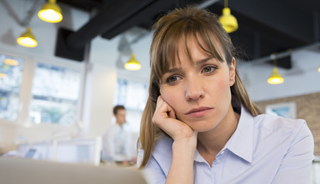 Sitting for Long Periods at Work Contributes to Anxiety, Depression
For many people, sitting at a desk for hours at a time is just part of the job, even as research continues to reveal links between prolonged sitting and a number of serious health issues ranging from a heightened risk of Type 2 diabetes to increased rates of obesity and heart disease, and even premature death.
But a recent study on the psychological impacts of sitting all day at work may get managers to stand up and take notice. New research demonstrates that sitting for longer than six hours a day at work not only carries a physical toll, but may also increase risks of mental health issues, such as anxiety and depression.
Sign Up for Free e-newsletters