January 08, 2015
Serotonin 'Map' of Brain Could Yield Better Antidepressants
the Psychiatry Advisor take:
Researchers at the Johns Hopkins Brain Science Institute are aiming to create a serotonin "map" of the brain as a way to develop more targeted antidepressants.
Jeremiah Cohen, PhD, of the Baltimore, Maryland-based institute says the goal is to have a better understanding of the biology of mood disorders and how brain cells connect as part of emotion and human behavior.
"Most antidepressants operate broadly in the entire serotonin system," Cohen told The Guardian newspaper. "What we hope to do with this map is use drugs that are available or design new drugs that will target only the components of that system relevant to a particular disorder."
The neurotransmitter serotonin is known to be associated with mood, and the most popular class of antidepressants, selective serotonin reuptake inhibitors, work by boosting serotonin levels in the brain. However, those drugs broadly target serotonin, leading to side effects including insomnia and sexual dysfunction.
The hope, Cohen says, is that the research will provide a more precise understanding of what part of the brain is involved in mood, and develop drugs to target just that area.
The research will start by examining serotonin neurons in mice as they conduct "reward-and-punishment tasks." Their behavior during the tasks will be monitored, and neurons that are participating in responses similar to that of human behavior will be mapped.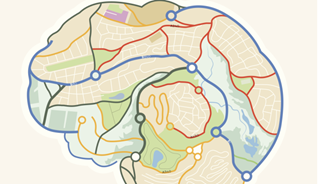 Serotonin 'Map' of Brain Can Yield Better Antidepressants
Research that aims to map the activity of serotonin in the brain could revolutionize the use of antidepressants and behavioral therapy for people with mental illnesses.
The neurotransmitter serotonin has long been associated with mood, with drugs that boost the chemical in the brain helping to alleviate the symptoms of common illnesses such as depression and anxiety, but scientists lack a deep understanding of how it mediates different mood disorders.
By understanding the biology of serotonin, the hope is that drugs can be created that only target cells relevant to a particular disorder and behavioural therapies can be made more effective, reducing the need for antidepressants.