September 07, 2014
Serious Childhood Burns May Increase Depression, Suicide Risk
This article originally appeared
here.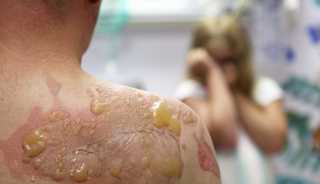 Serious Childhood Burns May Increase Depression, Suicide Risks
HealthDay News -- Adult survivors of childhood burns are at increased risk for depression and suicidal thoughts, according to a new study published in the September issue of Burns.
The research included almost 300 people in Australia who were hospitalized for burns between 1980 and 1990. Scalds caused 58% of the burns, and 17% were flame burns. The extent of the burns ranged from 1% to 80% of the survivors' bodies.
The researchers found that 42% of the participants had experienced some type of mental illness, 30 percent had suffered depression and 11% had attempted suicide. The researchers also discovered that many people in the study did not directly link their childhood burns with their current emotional health.
"This research demonstrates that being hospitalized for a burn during childhood places that child in an increased risk group. They require further, long-term follow-up beyond the medical attention received for their burns," Miranda van Hooff, MD, from the Center for Traumatic Stress Studies at the University of Adelaide, said in a university news release. "We found that it's not often the burn itself that has affected people but some other lifetime traumatic event. Half of the participants stated clearly in the survey that their personal distress was not related to their burns."
References