October 27, 2014
Seasonal Affective Disorder Linked To Serotonin Protein
the Psychiatry Advisor take:
People with seasonal affective disorder (SAD) have higher levels of serotonin transporter (SERT) protein during winter than those without the disorder, according to a new study.
Lead researcher Brenda McMahon, MD, a PhD student at the University of Copenhagen, and colleagues found that people with SAD had increased levels of SERT in the winter months.
Previous studies have indicated that SAD is triggered by a decline in sunlight during autumn and winter months. Researchers have hypothesized that a person's reduced exposure to natural light can cause imbalances of neurotransmitters.
To expand on this theory, the researchers used PET scans to look at the brains of 11 people with SAD and 23 people without the disorder. They specifically looked at participants' SERT levels during the winter and summer months.
The analysis showed that SERT levels in participants with SAD were 5% higher in winter than in summer. Participants without SAD showed no significant changes in SERT levels between the seasons. High SERT levels indicate greater removal of serotonin from the brain, which can lead to depressive symptoms.
Sunlight keeps SERT levels naturally low, so the decrease in sunlight during the autumn and winter months can results in increased levels, and thus, decreased serotonin levels.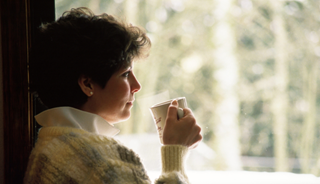 Seasonal Affective Disorder Linked To Serotonin Protein
Winter: We have all had those moments when we would rather stay in bed than head out into the cold, dark day. But for those with seasonal affective disorder, winter can trigger a severe form of depression. In a new study, researchers claim to have identified what causes the condition.
Lead researcher Brenda McMahon and her colleagues, from the University of Copenhagen in Denmark, recently presented their findings at the European College of Neuropsychopharmacology Congress in Berlin, Germany.
Seasonal affective disorder is a form of depression that tends to occur at the same time each year, from autumn through winter.
Sign Up for Free e-newsletters