December 11, 2014
Researchers Monitor Twitter Posts For Mental Health Insights
the Psychiatry Advisor take:
Computer scientists at Johns Hopkins University say that an algorithm they created that scanned Twitter posts to track flu outbreaks can be expanded and used to track instances of mental illness.
The researchers say that by reviewing tweets from users who mention their mental illness or include language cues in posts related to psychiatric disorders, they can collect valuable data. They add that their research did not disclose the personal identities of the posts' authors.
"With many physical illnesses, including the flu, there are lots of quantifiable facts and figures that can be used to study things like how often and where the disease is occurring, which people are most vulnerable and what treatments are most successful," Glen Coppersmith, PhD, a Johns Hopkins researcher who has played a key role in the project, said in a statement. "But it's much tougher and more time-consuming to collect this kind of data about mental illnesses because the underlying causes are so complex and because there is a long-standing stigma that makes even talking about the subject all but taboo."
At a military conference in August, Coppersmith and colleagues presented preliminary data from a study on using Twitter posts to monitor mental illness in certain locations. Those early results showed that PTSD was more prevalent at military installations that had frequent deployments to Iraq and Afghanistan, and depression was greater at locations with higher unemployment rates.
"Using Twitter to get a fix on mental health cases could be very helpful to health practitioners and governmental officials who need to decide where counseling and other care is needed most," added Mark Dredze, PhD, one of the Hopkins researchers. "It could point to places where many veterans may be experiencing PTSD, for example, or to towns where people have been traumatized by a shooting spree or widespread tornado damage."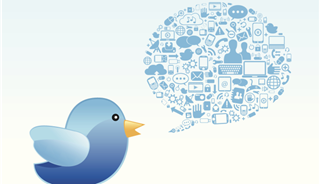 Researchers Monitor Twitter Posts For Mental Health Insights
Emerging research suggests that posts on the social media site Twitter can be a quick and inexpensive source of health information.
The posts have been used to map the outbreak of flu and now, a group of Johns Hopkins computers scientists say their techniques can gather important information about some common mental illnesses.
The technique involves a review of tweets from users who publicly mentioned their diagnosis. Experts analyze the tweets with the intent of discovering language cues linked to certain disorders, including depression, bipolar disorder, and post-traumatic stress disorder.
Sign Up for Free e-newsletters