July 01, 2015
Repeated Depression Shrinks Brain Area Involved in Emotions, Memories
the Psychiatry Advisor take:
People who have repeated episodes of depression have a much smaller part of the brain that is responsible for making new memories and regulating emotions compared to individuals without the mood disorder, according to a new study of almost 9,000 people.
Researchers at the Brain and Mind Institute, part of the University of Sydney in Australia, conducted the ENIGMA study, the largest international study to examine the size of brains of people both with and without depression. Those with recurrent depression accounted for 65% of the subjects with major depression.
Using MRI brain scans, they examined the brains of 1,728 people with major depression and 7,199 individuals without the illness. A total of 15 datasets including people from Australia, Europe and the United States were included.
The main finding of the study is that people with major depression tend to have a smaller hippocampus compared to healthy individuals, the researchers reported in the journal Molecular Psychiatry. Individuals who had early onset of depression — before the age of 21 — had a smaller hippocampus than healthy peers, an indication they may go on to have depression again in the future.
However, study participants with a first episode of major depression — 34% of subjects with major depression — did not have a smaller hippocampus. The researchers noted that this may be an indication that the changes to the hippocampus may be the result of the effects of depression on the brain.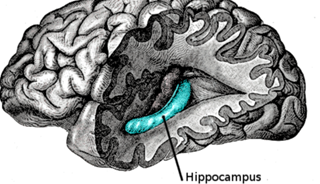 MRI scans show link between people with recurrent depression and a smaller part of the brain called the hippocampus. Image courtesy of Gray's Anatomy.
The brains of people with recurrent depression have a significantly smaller hippocampus — the part of the brain most associated with forming new memories — than healthy individuals, a new global study of nearly 9,000 people reveals.
Published in Molecular Psychiatry, the ENIGMA study is co-authored by University of Sydney scholars at the Brain and Mind Research Institute.
The research is the largest international study to compare brain volumes in people with and without major depression. It highlights the need to identify and treat depression effectively when it first occurs, particularly among teenagers and young adults.
Sign Up for Free e-newsletters