August 24, 2015
Psoriasis Tied to Higher Depression Risk
the Psychiatry Advisor take:
Having psoriasis, the autoimmune disease that results in flaky skin, may also increase one's risk of depression.
Roger S. Ho, MD, a dermatology professor at NYU School of Medicine, and colleagues looked at data from the National Health and Nutrition Examination Survey, involving 12,382 adults, including some with plaque psoriasis.
About 16.5% of those with psoriasis also had depression, and those with the skin disease had twice the risk of developing depression as those without it, the researcher reported at the recent American Academy of Dermatology's 2015 Annual Meeting.
The results stood up even after accounting for other factors, such as age, body mass index, physical activity, alcohol and tobacco use.The reason for the elevated depression risk, Ho suspects, is a result of the stigma associated with psoriasis.
"The public should know that psoriasis is not contagious, so there is no need to act differently around psoriasis patients than you would around anyone else," he said.
Additional research is needed to determine whether there are biological or genetic factors that may raise depression risk for psoriasis patients.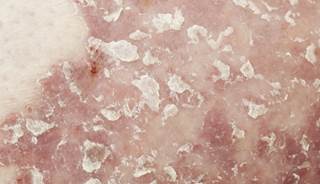 Researchers surmise the increased risk is a result of stigma associated with the skin condition.
People with psoriasis — a chronic autoimmune disease that primarily affects the skin — are at greater risk of depression. This is according to new research recently presented at the American Academy of Dermatology's 2015 Summer Annual Meeting in New York.
Researchers found people with psoriasis were twice as likely to meet the criteria for major depression than those without the skin disease.
The exact cause of psoriasis is unclear, but researchers believe it may be triggered by the immune system attacking healthy cells — particularly skin cells, causing what is known as plaque psoriasis.
Sign Up for Free e-newsletters