October 15, 2014
Physical Activity Tied to Less Likelihood of Depression
the Psychiatry Advisor take:
Regularly engaging in physical activity may help to ward off depression throughout adulthood, according to a new study.
Snehal M. Pinto Pereira, PhD, of University College London, England, and colleagues, examined whether levels are physical activity are tied to depressive symptoms. They used data from 11,000 people in Great Britain born during the same week in 1958 who were followed periodically until they reached age 50.
The more frequent physical activity that was undertaken, the lower the number of depressive symptoms reported, the researchers reported in JAMA Psychiatry.
They also found that starting to exercise also decreased the likelihood of depression. For example, those who were inactive at any age, increasing physical activity to three times per week reduced the odds of depression by 19% five years later.
Also, depression seems to make people less likely to exercise. For example, for participants at age 23 who were not depressed, their average increase in physical activity five years later was 0.63 times per week. But for those with depression, physical activity only increased by 0.36 times per week over that period.
"The findings suggest that activity may alleviate depressive symptoms in the general population and, in turn, depressive symptoms in early adulthood may be a barrier to activity," the researchers wrote.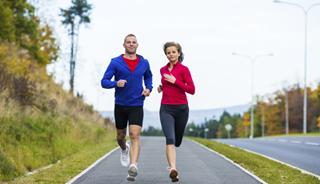 Physical Activity Tied to Less Likelihood of Depression
Associations have been documented between physical activity and depression, but the direction of this association is unclear. The objective of the study is to examine whether depressive symptoms are concurrent with physical activity and to examine the direction of the relationship from 23 to 50 years of age.
Participants included members of the 1958 British Birth Cohort, a general population sample of all persons born in England, Scotland, and Wales in a single week in March 1958 who were followed up to 50 years of age (2008). We included approximately 11,000 cohort members with information on depressive symptoms or frequency of physical activity at 23, 33, 42, or 50 years of age.
Sign Up for Free e-newsletters
Check out what's trending