October 23, 2014
Patients With Depression Tend to Be Optimistic About Future
the Psychiatry Advisor take:
People with depression tend to be optimistic about the future, though this may not necessarily lead to better outcomes.
A study led by Michael Busseri, PhD, of Brock University indicated that middle-aged adults who had histories of depression were likely to see their past and current lives in a more negative light than adults without depression. However, they were not negative about the future.
The researchers analyzed data from the Midlife Development in the United States (MIDUS) survey, which used a sample of middle-aged Americans. They looked at participants' symptoms of depression measured through clinical interviews as well as reports of life satisfaction for the past, present, and future.
Participants with symptoms of depression reported lower levels of life satisfaction for the past, present, and future compared to non-depressed participants, the researchers reported in the journal Clinical Psychological Science. However, participants with depression and non-depressed participants both thought life would improve over time.
Patients who were not depressed showed increases in life satisfaction from one point to the next. Depressed participants showed relatively flat trajectories between past and present life satisfaction, with a significant increase between current and future. The researchers believe that it's possible that optimism in depressed participants could be a form of wishful thinking that could contribute to sub-optimal outcomes.
They also found that participants with relatively low ratings of past and present life satisfaction had an increased risk of depression over a 10-year period.
The study results indicate that helping depressed individuals create realistic plans to achieve more satisfying futures may be a new method for mental health clinicians to pursue.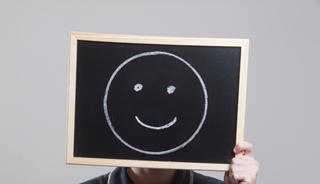 Patients With Depression Tend to Be Optimistic About Future
Adults typically believe that life gets better -- today is better than yesterday was and tomorrow will be even better than today. A new study shows that even depressed individuals believe in a brighter future, but this optimistic belief may not lead to better outcomes. The findings are published in Clinical Psychological Science, a journal of the Association for Psychological Science.
The research shows that middle-aged adults who had a history of depression tended to evaluate their past and current lives in more negative terms than did adults without depression, but this negativity didn't extend to their beliefs about the future.
Sign Up for Free e-newsletters