November 12, 2015
Online CBT May Offer Little To No Benefit For Depression
the Psychiatry Advisor take:
Online cognitive behavioral therapy (CBT) may offer little to no benefits for those with depression, according to research published in The BMJ.
Studies have indicated that traditional CBT, in which patients have face-to-face sessions with a counselor, can benefit those with depression, particularly when it is mild to moderate.
In light of this and the growing potential uses for technology in managing health, there has been growing interest to see whether online CBT, also called computerized CBT (cCBT), could be beneficial to those with depression.
To study the effectiveness of two available cCBT programs: the paid "Beating the Blues" program by the National Health Service in the United Kingdom, and MoodGYM, a free program from Australian National University, Simon Gilbody, DPhil/PhD from the University of York, England, and colleagues randomly assigned 691 participants with depression to either receive only standard primary care, standard primary care with "Beating the Blues" cCBT, or standard primary care with MoodGYM cCBT.
The researchers found that there were no significant improvements in depression in the cCBT groups compared with the primary care only group. Rather than a lack of efficacy from the programs, the researchers note the poor outcomes of cCBT were primarily from low engagement and low adherence to treatment: Only 18% and 16%, respectively, of participants completed "Beating the Blues" and MoodGYM. And 24% of participants dropped out entirely at four months.
"Participants said they wanted a greater level of clinical support as an adjunct to therapy, and, in the absence of this support, they commonly disengaged with the computer programs," the authors said.
Given these findings, the researchers believe current guidelines for the use of cCBT should be reviewed.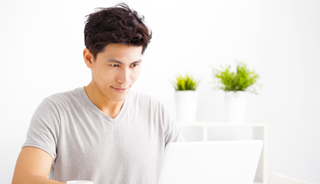 The researchers note the poor outcomes of online CBT were primarily from low engagement and low adherence to treatment.
For people with depression, cognitive behavioral therapy is deemed an effective treatment option. When it comes to the computerized form of the therapy, however, a new study suggests it offers little or no benefits for individuals with the condition.
Study coauthor Simon Gilbody, professor of psychological medicine and health services research at the University of York in the UK, and colleagues recently published their findings in The BMJ.
Cognitive behavioral therapy (CBT) is a form of talk therapy that aims to help patients with mental health problems overcome negative thoughts and behaviors that may be contributing to their condition.
Sign Up for Free e-newsletters