October 05, 2014
Omega-3 May Prevent Some Types of Depression
the Psychiatry Advisor take:
Omega-3 fatty acids may help to prevent depression in people with inflammatory diseases, according to a study.
Carmine Pariante, PhD, of the Institute of Psychiatry at King's College London, United Kingdom, and colleagues, enrolled 152 patients with hepatitis C to examine the benefit of omega-3 on inflammation-induced depression.
Patients, who were also taking interferon-alpha for the hepatitis C, were randomized to receive two weeks of treatment of either EPA, DHA, or placebo. EPA (eicosapentaenoic acid) and DHA (docosahexaenoic acid) are the two kinds of omega-3 fatty acids commonly found in fish oil supplements.
After the two-week treatment, patients were continued on interfereon-alpha and monitored for depression. About 30% of patients on interferon treatment develop depression.
Patients treated with EPA, but not DHA or placebo, were less likely to experience depression due to interferon-alpha, the researchers reported in Biological Psychiatry. However, both EPA and DHA delayed the onset of depression.
"We believe that this nutritional intervention restores the natural protective anti-inflammatory capabilities of the body, and this protects patients from new-onset depression when inflammation occurs," Pariante said in a statement.
A 1999 study by researchers at Harvard Medical School found that giving fish oil pills to patients with bipolar depression significantly reduced the risk of relapse compared with those on placebo.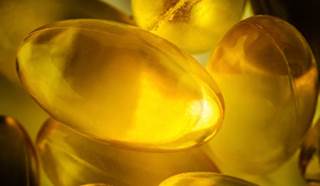 Omega-3 May Prevent Some Types of Depression
Patients with increased inflammation, including those receiving cytokines for medical treatment, have a greatly increased risk of depression.
For example, a 6-month treatment course of interferon-alpha therapy for chronic hepatitis C virus infection causes depression in approximately 30% of patients.
Omega-3 fatty acids, more commonly known as fish oil, have a long list of health benefits, including lowering the risk of heart disease and reducing triglyceride levels. These nutritional compounds are also known to have anti-depressant and anti-inflammatory properties