January 13, 2015
Nurses Treating Elderly At Home Can Integrate Depression Care
the Psychiatry Advisor take:
Older patients can benefit from home health care nurses who integrate depression care into treatment, though the efficacy appears to only benefit those seniors with moderate to severe depression.
Martha L. Bruce, PhD, MPH, of Department of Psychiatry at Weill Cornell Medical College in White Plains, New York, and colleagues enrolled 306 participants, nearly 70% of which were female, with a mean age of 76.5 years old in the Depression Care for Patients at Home (Depression CAREPATH) trial. All had screened positive for depression and were Medicare Home Health patients.
Nurses were required to manage depression during routine home visits, through symptom assessment, medication management, education and goal setting. The visits took place through six nationwide home health care agencies nationwide between January 13, 2009 and December 6, 2012. The patients were followed up at 3, 6 and 12 months after enrollment.
Although overall results showed the intervention had no effect, patients with moderate to severe depression — a score of at least 10 on the Hamilton Scale for Depression (HAM-D) — saw significant improvement beginning at 12 months, the researchers reported in JAMA Internal Medicine.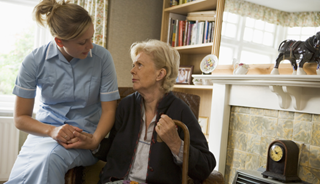 Home Nurses Integrating Depression Care Benefits Elderly
Among older home health care patients, depression is highly prevalent, is often inadequately treated, and contributes to hospitalization and other poor outcomes. Feasible and effective interventions are needed to reduce this burden of depression.
The objective of the study is to determine whether, among older Medicare Home Health recipients who screen positive for depression, patients of nurses receiving randomization to an intervention have greater improvement in depressive symptoms during 1 year than patients receiving enhanced usual care.
This cluster randomized effectiveness trial conducted at 6 home health care agencies nationwide assigned nurse teams to an intervention (12 teams) or to enhanced usual care (9 teams).
Sign Up for Free e-newsletters