May 06, 2015
New Guidelines Suggested for Antidepressant Use in Children
the Psychiatry Advisor take:
Given the black box warning on suicide risk in children and adolescents on the labeling of all selective serotonin reuptake inhibitors (SSRIs), researchers have developed new guidelines for how the antidepressants should be dosed in this population.
Adam Kaplin, MD, PhD, of Johns Hopkins University School of Medicine, and colleagues, wanted to find out whether the potential negative effecst shortly after beginning SSRI therapy could be mitigated through the gradual dosing done in adults with anxiety disorders or combining an SSRI with another medication to speed up the SSRIs' therapeutic effects.
The black box warning on suicidal thinking and behavior was added to SSRI prescribing information in 2004. Currently, fluoxetine (Prozac) is the only SSRI that is FDA-approved for children between 8 and 12 years old, though it is slow acting, taking weeks or months for therapeutic impact to take effect.
Kaplin's team found that while SSRIs made young patients more impulsive, especially during the first month of therapy, they didn't create suicidal thoughts where the patients had not experienced them before.
Using a computer simulation to find optimal dosing for faster-acting SSRIs, the researchers determined that starting with a half the normal dose and slowly increasing it was the best way to achieve therapeutic effects while minimizing side effects, the researchers reported in the journal Translational Psychiatry.
They also found, based on a study in mice, that adding a molecule known as WAY-100635 to an SSRI reduced anxiety symptoms, which could also mitigate impulsivity in children. By itself, WAY-100635 had no significant effect on anxiety.
"Now that we have uncovered this effect and worked out this mechanism, we are in the process of communicating with pharmaceutical companies to see which of them might have tested a drug similar to WAY-100635 that didn't do anything by itself and therefore was abandoned," Kaplin said in a statement.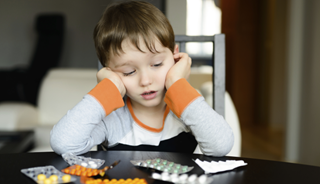 New Guidelines Suggested for Antidepressant Use in Children
Although selective serotonin reuptake inhibitor (SSRI) medications are considered the current standard for pharmaceutical care for depression, the medications must be carefully prescribed to avoid the risk of suicide among children and young adults.
A multidisciplinary team of Johns Hopkins researchers has developed two new strategies to safely treat depression in young people using the SSRI class of medications. These strategies, recently published in the journal Translational Psychiatry, incorporate a new understanding of how to mitigate the risk of suicide while on SSRI treatment.