September 04, 2014
New Diagnosis in DSM-5 Can Improve Treatment For Chronically Irritable Kids
the Psychiatry Advisor take:
The recent inclusion of disruptive mood dysregulation disorder (DMDD) in the DSM-5 can improve treatment for chronically irritable children, who may have been diagnosed in the past with bipolar disorder.
Pediatric visits for bipolar disorder in the United States skyrocketed from 25 per 100,000 in 1994-95 to 1,003 per 100,000 in 2002-2003. As a result, many of these children were treated with atypical antipsychotic medication.
This may not have been the best treatment, considering many of them may not have even had the disorder, according to Amy K. Roy, PhD, of the Department of Psychology at Fordham University, Bronx, New York, and colleagues
The core feature of DMDD is "chronic, severe persistent irritability" accompanied by temper outbursts for at least three times a week for at least a year. While the symptoms are similar to those of severe mood dysregulation, the difference is that hyperarousal is not included in DMDD.
Part of the problem in treating DMDD is there are no clinical trials to inform clinical practice. However, a first step in treatment would be stimulant medication, Roy, et al, write in the American Journal of Psychiatry, given the class of drugs reduces aggression with minimal side effects. Only if there is no improvement with stimulant and psychosocial treatment should atypical antipsychotics be considered.
"It is…hoped that use of the diagnosis will lead to the identification of a group of highly impaired children for whom targeted interventions can be established, " the researchers concluded.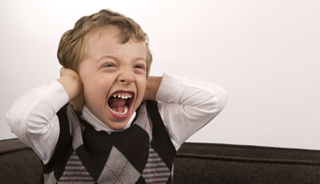 New Diagnosis in DSM-5 Can Improve Treatment For Chronically Irritable Kids
Disruptive mood dysregulation disorder (DMDD), a newcomer to psychiatric nosology, addresses the need for improved classification and treatment of children exhibiting chronic nonepisodic irritability and severe temper outbursts. In recent years, many of these children have been diagnosed with bipolar disorder, despite the lack of distinct
mood episodes
. This diagnostic practice has raised concerns, in part because of the escalating prescription of atypical antipsychotics. This article provides an overview of the limited literature on DMDD, including its history and relevant studies of assessment and treatment. A case study is included to illustrate key points, including diagnostic issues that clinicians may encounter when considering a diagnosis of DMDD.
Sign Up for Free e-newsletters
Check out what's trending