June 16, 2015
New Depression Treatment Possible By Combining Two Existing Meds
the Psychiatry Advisor take:
Research conducted at the University of Bath in England suggests that combining a painkiller commonly used after surgery and a drug used to treat addiction may be a potential new antidepressant treatment based on a study in mice.
Although many selective serotonin reuptake inhibitor (SSRI) antidepressants are currently available, there is a need for newer depression therapies as many people taking SSRIs — between 30% and 50% — do not respond adequately to them.
The combination the researchers are examining are buprenorphine, a painkiller, and naltrexone, an anti-addiction drug. Buprenorphine works by reducing a person's responses to stress by inhibiting a brain receptor known as the kappa opioid receptor. However, it also stimulates another receptor called the mu opioid receptor, which can lead a person to become addicted to buprenorphine if taken over a long period.
As a result of this, the researchers added naltrexone, which blocks the mu receptor. In the study with mice, the combination of the two drugs produced an antidepressant effect, but without any addiction issues, they reported in the Journal of Psychopharmacology.
The researchers concede, however, that they have a long way to go before the buprenorphine/naltrexone combination may be available as there needs to be human trials.
"It may be hard to deliver this combination in the clinic because of the properties of these drugs," co-author Stephen Husbands, PhD, said in a statement, noting another issue. "We have also been working on changing the chemistry of buprenorphine so that it has the properties of this combination treatment in one molecule which should simplify drug delivery."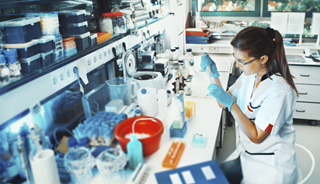 Mice study indicates combining buprenorphine and naltrexone produces antidepressant effect.
Scientists at the University of Bath have identified that a combination of two existing licensed drugs could be used as a potential new treatment for depression.
Current antidepressants, called SSRIs, increase the amount of serotonin in the brain although the exact mechanism by which they work is still unclear. However around 30-50% of these patients do not respond to treatment, it can take several weeks before the drugs take effect, and many patients suffer significant side effects.
The team at Bath found that using a combination of buprenorphine (a painkiller used post-surgery) and naltrexone (a drug used for treating addiction) produced antidepressant-like responses in mice.
Sign Up for Free e-newsletters