November 18, 2014
Nearly 40% of People With Depression Miss Work
the Psychiatry Advisor take:
A survey has found that almost 40% of people who have been diagnosed with depression have had to take time off from work due to the illness, resulting in an average of 10 sick days per year.
The results from the Impact of Depression at Work Audit, which was designed to evaluate the economic and societal impacts of depression in the workplace, also found that nearly 60% of those diagnosed with depression did not tell their employer and nearly half said they thought telling their boss might put their job at risk.
Depression takes a toll on companies' bottom line as an estimated $100 billion annually is spent on depression costs by U.S. employers — a figure that includes $44 billion a year in lost productivity alone — according to the National Business Coalition on Health.
And while the group also said that short-term disability claims related to mental illness are growing by 10% annually, more than 35% of managers in the survey said they had no formal support or training to help depressed employees.
"The results demonstrate the vital need for employers to provide support and resources in the workplace for those suffering from this debilitating disease," Coalition CEO Brian Klepper said in a statement.
Investing in depression care for employees can be a win-win. A 2006 study estimated that for every one dollar invested by employers in improved depression care yields approximately three dollars back in the form of enhanced productivity by employees.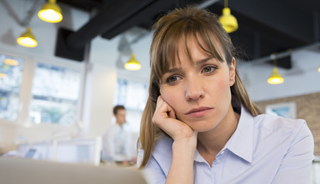 Nearly 40% of People With Depression Miss Work
A new survey may motivate employers to consider proactive strategies to address depression in the workplace.
Researchers found nearly one-quarter (23%) of U.S. respondents indicated they have been diagnosed with depression in their lifetime and two in five (nearly 40%) of those patients reported taking time off of work because of depression. Notably, the time off work for depression averaged 10 days a year.
The findings stem from The Impact of Depression at Work Audit, an initiative charged with determining the societal and economic burden of depression in the workplace.
Sign Up for Free e-newsletters
Check out what's trending