August 27, 2014
Most Depressed Cancer Patients Don't Get Psychiatric Treatment
the Psychiatry Advisor take:
The vast majority of cancer patients who have depression do not receive the mental health treatment they need, even though they are more likely than the general public to suffer from the psychiatric illness.
Major depression was was most common in patients with lung cancer (13%) and lowest in those with genitourinary cancer (6%), according to a study from the United Kingdom.
Perhaps most shocking, nearly 73% of cancer patients with depression were not receiving care to alleviate the mental illness, Jane Walker, PhD, of the Department of Psychiatry at the University of Oxford, and colleagues, reported in The Lancet Psychiatry.
The researchers analyzed data from more than 21,000 patients who had breast, lung, colorectal, genitourinary, and gynecological cancer who also participated in a depression screening. They found that patients who were younger, less socially active, and for women, those who had lung and colorectal cancer, were more likely to be depressed.
"Major depression is common in patients attending cancer clinics and most goes untreated," the researchers said. "A pressing need exists to improve the management of major depression for patients attending specialist cancer services."
A more collaborative care approach between oncologists and psychiatrists, David W. Kissane, MD, Head of Psychiatry at Monash University, Clayton, Australia, argued in an accompanying editorial, could "greatly improve outcomes for depressed patients with cancer compared with usual care."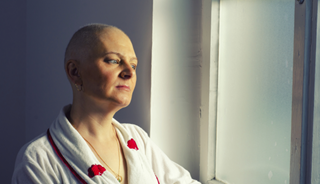 Most Depressed Cancer Patients Don't Get Psychiatric Treatment
Major
depression
is an important complication of cancer. However, reliable data are lacking for the prevalence of depression in patients with cancer in different primary sites, the association of depression with demographic and clinical variables within cancer groupings, and the proportion of depressed patients with cancer receiving potentially effective treatment for depression. We investigated these questions with data from a large representative clinical sample.
This article originally appeared
here.
Sign Up for Free e-newsletters