February 25, 2015
Mood Disorders, Anxiety Can Indicate Physical Illness
the Psychiatry Advisor take:
Mood disorders and anxiety could be early symptoms of a range of different medical disorders, according to a study published in the journal Psychotherapy and Psychosomatics.
The researchers found that mood disorders, especially depression, are common symptoms of Cushing's syndrome, hypothyroidism, hyperparathyroidism, myocardial infarction, Wilson's disease, AIDS, and pancreatic and lung cancer.
Clinicians often refer patients with psychological problems to psychologists or psychiatrists. This tendency overlooks the interconnectedness of the brain and body — physical problems can affect mental well-being and vice versa.
In their review, the researchers noted that the DSM-5 includes examples of medical disorders that can be associated with mood disorders and anxiety, but it lacks a list of medical disorders with psychological prodromes (early symptoms). Additionally, the DSM-5 fails to note that irritability can result from physical as well as psychological conditions.
Importantly, the researchers said that psychological symptoms that stem from a physical condition generally cannot be fully treated with psychiatric drugs. Instead, they require treatment of the underlying medical disorder.
Depression and anxiety are relatively common disorders, and the researchers note that most of these cases do not indicate an underlying physical illness. However, if a patient presents with new psychological symptoms or is not responding to typical treatment, clinicians should be alert to possible physical causes.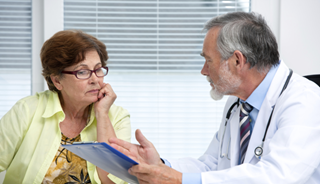 Mood Disorders, Anxiety Can Indicate Physical Illness
When it comes to your health, mind over matter may not be so much of a thing as mind and then matter.
In the January 2015 edition of Psychotherapy and Psychsomatics, a group of Italian researchers explored whether depression, anxiety, and other psychiatric mood disorders might be early symptoms of medical disorders, as opposed to being "just" psychological symptoms.
Their research showed that depression in particular can be a strong indicator of other forms of illness, finding it "to be the most common affective prodrome [early symptom] of medical disorders and was consistently reported in Cushing's syndrome, hypothyroidism, hyperparathyroidism, pancreatic and lung cancer, myocardial infarction, Wilson's disease, and AIDS."