November 24, 2015
Loneliness Linked to Brain Inflammation, Premature Death
the Psychiatry Advisor take:
While it is well known that feeling lonely can contribute to a number of mental disorders, such as depression, it may also boost one's risk of premature death by as much as 14%, based on a study in both humans and monkeys.
John T. Cacioppo, PhD, of the University of Chicago, and colleagues evaluated participants who took part in the Chicago Health, Aging, and Social Relations study, a longitudinal study that started in 2002 with adults between the ages of 50 and 68 years old. Rhesus macaque monkeys from the California National Primate Research Center who were classified as being in social isolation were also used in the study.
Prior research from Cacioppo had discovered a connection between loneliness and a process that involved the increased expression of genes related to inflammation and decreased expression of genes involved in antiviral response dubbed "conserved transcriptional response to adversity" (CTRA).
The new study looked at gene expression in leukocytes, which are cells in the body's immune system. The leukoctyes of lonely humans and monkeys indicated that they were impacted by CTRA, the researchers reported in the Proceedings of the National Academy of Sciences.
In addition, the macaques showed higher levels of norepinephrine, the so-called "fight-or-flight" neurotransmitter. Elevated norepinephrine levels can stimulate over production of monocytes, a top of immune cells that has high levels of inflammatory gene expression.
Additional examination of the cells found that CTRA also had additional physical health consequences since lonely monkeys with a viral infection had impaired antiviral gene expression, allowing the virus to expand faster in the brain and blood.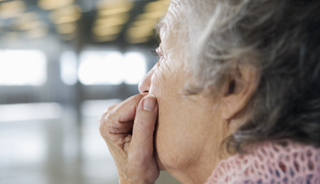 Loneliness can negatively impact cells of the immune system, making one more susceptible to physical illnesses.
Loneliness is not just an excruciating feeling that can lead to other mental health problems, it can actually be a cause of premature death. While loneliness can affect anyone at any point in life, it is particularly common among the rapidly increasing population of old people. When you read stories about how many old people live alone and say the television is their main company, you realize that tackling loneliness is one of the greatest challenges facing our society.
Now a new study in humans and rhesus macaques suggests that loneliness is associated with inflammation of the brain. This is potentially a very important finding, but it is important not to jump to conclusions. Understanding the biological response to a condition like loneliness should lead to a more holistic understanding of mental health problems rather than a knee-jerk medicalized solution like a quick-fix drug.
Sign Up for Free e-newsletters