April 02, 2015
Incorporating Religion into CBT May Aid Depression Treatment
the Psychiatry Advisor take:
Integrating patients' religious beliefs into cognitive-behavioral therapy (CBT) is as effective as traditional CBT for people with chronic illness and major depression, according to a study published in The Journal of Nervous and Mental Disease.
Patients with chronic illnesses often experience depression and using religion or spirituality to cope is common. The researchers thought that doing more to integrate faith into therapy could be helpful for these patients.
The study included 132 participants who had chronic illness and major depression, all of whom reported that religion or spirituality was at least somewhat important to them. Each participant was randomly assigned to either traditional or religious CBT. Both therapies included loosely spiritual content, but the religious CBT focused on the specific religious and spiritual beliefs of the participant. These beliefs were used to identify and correct negative habits.
After 10 sessions, participants in both treatment groups had similar reductions in depression scores. Also, about half of the participants in both groups reported remission of their depression symptoms.
For patients who said they were very religious, religious CBT was somewhat more effective in reducing depression scores compared with standard CBT. They were also likely to attend more sessions than their highly religious peers assigned to standard CBT.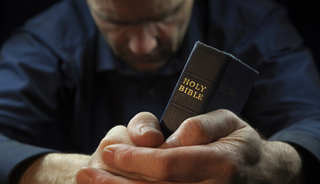 Incorporating Religion into CBT May Aid Depression Treatment
For chronically ill patients with major depression, an approach to cognitive-behavioral therapy (CBT) that incorporates patients' religious beliefs is at least as effective as conventional CBT, suggests a study in the April issue of The Journal of Nervous and Mental Disease.
"Integrating religious clients' beliefs into CBT does not appear to significantly reduce its effectiveness, especially in religious clients," write Harold Koenig, MD, of Duke University Medical Center, Durham, N.C., and colleagues. They believe that this approach might help to make psychotherapy more acceptable to religious patients with depression and chronic illness.
Sign Up for Free e-newsletters