May 01, 2015
Household Debt Linked to Depression
the Psychiatry Advisor take:
Being in debt, whether in terms of being behind in paying credit cards or having overdue bills, is associated with an increase in depressive symptoms in some people.
Lawrence Berger, PhD, of the University of Wisconsin-Madison, and colleagues examined data on more than 8,500 adults taken from two waves of the National Survey of Families and Household taken six years apart, ending in 1994.
About 80% of respondents had some kind of debt, averaging about $42,000. Most of that was considered long-term debt. Those who had debt tended to be younger, more likely to be male, were more highly educated, were more likely to be married, were more affluent, and were in better health.
However, the connection between debt and depressive symptoms was strongest in those who were unmarried, those nearing retirement (adults between the ages of 51 and 64), and the less educated, the researchers reported in the Journal of Family and Economic Issues. In addition, the association was seen only in those with short-term debt.
The researchers also controlled for reverse causality to eliminate the possibility that the debt was leading to the depression.
"New debt contracts could be offered to vulnerable borrowers and the population sectors we identified could be targeted with help in building their financial capacity," Berger said in a statement, adding that the study results can also help mental health clinicians understand the impact patient borrowing may have on depression.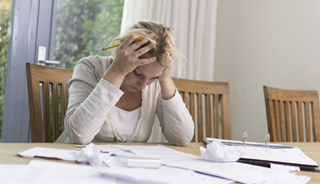 Household Debt Linked to Depression
A new study finds that being behind on paying credit cards and having overdue household bills increases depressive symptoms.
Researchers found the link to be particularly strong among unmarried people, people reaching retirement age and those who are less well educated. Investigators also looked at whether mid or long-term debt influenced depressive symptoms and found little evidence that being in arrears for this type of debt is linked to depression.
The study was focused on around 8,500 working-age adults. The data were taken from two waves of the National Survey of Families and Households, conducted six years apart and ending in 1994.
Sign Up for Free e-newsletters