November 21, 2014
High Job Authority May Increase Depression in Women
the Psychiatry Advisor take:
For women, having a job that is considered an authority position increases symptoms of depression. But in men, the opposite is true.
Tetyana Pudrovska, PhD, of the University of Texas at Austin and Amelia Karraker, Phd, of Iowa State University, examined 1,300 middle-aged men and 1,500-middle aged women in Wisconsin.
Women who were involved in hiring and firing decisions, and influenced the pay of others as part of their job, had many more depression symptoms than men with the same authority, the pair reported in the Journal of Health and Social Behavior. Compared with men who lacked job authority, similar women had more depressive symptoms, but not to the extent that was seen in women with job authority.
"What's striking is that women with job authority in our study are advantaged in terms of most characteristics that are strong predictors of positive mental health," Pudrovska said in a statement. "These women have more education, higher incomes, more prestigious occupations, and higher levels of job satisfaction and autonomy than women without job authority. Yet, they have worse mental health than lower-status women."
Pudrovska and Karraker say that women in authority positions have to overcome negative stereotypes, prejudice, and resistance from co-workers and superiors, which contributes to chronic stress and potentially, depression.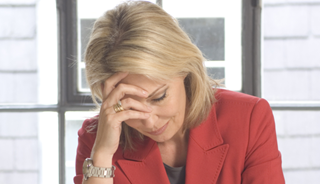 High Job Authority May Increase Depression in Women
A job description that includes hiring and firing authority appears to affect women and men differently. In a new study, researchers discovered that having job authority increases symptoms of depression among women, but decreases them among men.
"Women with job authority — the ability to hire, fire, and influence pay — have significantly more symptoms of depression than women without this power," said Tetyana Pudrovska, an assistant professor in the Department of Sociology at the University of Texas at Austin. "In contrast, men with job authority have fewer symptoms of depression than men without such power."
The study, "Gender, Job Authority, and Depression," has been published in the Journal of Health and Social Behavior.
Sign Up for Free e-newsletters