March 02, 2015
Genetics' Role in Association Between Depression and Back Pain
the Psychiatry Advisor take:
Scientists have discovered a genetic link that contributes to the association between depression and lower back pain, according to a study published in Pain.
Previous studies have shown a link between depression and back pain, but this study is the first to investigate how the two are connected.
The researchers used the Murcia Twin Registry, a database of almost 2,150 Spanish twins. They performed statistical analyses to determine if participants with symptoms of depression had a higher likelihood of back pain. The researchers also examined the contributions of genetic and environmental factors.
In their first analysis, the researchers looked at the participants as individuals rather than sets of twins, thus not accounting for genetic factors. Participants with depression were 1.6 times more likely to have back pain compared with those without depressive symptoms.
When the researchers analyzed the participants as twin pairs, the results changed. Now, those with depression were 1.7 times more likely to have back pain than those without depression. Additionally, an analysis of dizygotic (fraternal) twins revealed a 2.3 times increase in the likelihood of back pain with depression.
For monozygotic (identical) twins, there was no association between depression and back pain. This suggests that the strong association found in fraternal twins resulted from genetic variations not present in identical twins.
The researchers stress that it is still not clear whether the same genetic factors increase the likelihood of both depression and back pain. More studies where participants are followed up over a longer period of time are needed to examine the link further.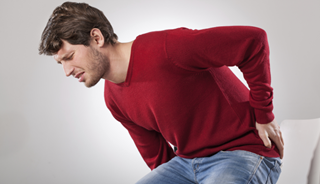 Genetics Link Depression and Back Pain
Genetic factors help to explain the commonly found association between low back pain and depression, suggests a large study of twins in the March issue of Pain, the official publication of the International Association for the Study of Pain.
Genetic factors affecting both conditions may be involved in the association between back pain and depression, according to the report by Marina B. Pinheiro, MSc, and colleagues of The University of Sydney, Australia, and Murcia Twin Registry, Spain.
The researchers analyzed data from an established database (Murcia Twin Registry) of nearly 2,150 Spanish twins. Twin studies provide a unique opportunity to elucidate the association between health conditions, by eliminating the genetic and environmental factors contributing to them.
Sign Up for Free e-newsletters
Check out what's trending