August 08, 2014
Fitness Curbs Depression in Middle School Girls
the Psychiatry Advisor take:
It's well known that exercising regularly does a body good. And new evidence indicates it's also good for the mind, especially in young girls.
Physically fit six-graders — particularly girls — are less likely to report feeling depressed when they entered seventh grade compared with pears who are not as active, according to research presented at the American Psychological Association Annual Convention in Washington, D.C.
Camilo Ruggero, PhD, of the Department of Psychology at the University of North Texas, said that that there was a similar effect on boys, but to a lesser extent.
In the study, researchers examined 437 students (55% girls, 45% boys) at several middle schools in a metropolitan area. Participants answered questions about depression and fitness. And they also participated in a fitness testing procedure involving short bursts of speed.
Sixth-grade girls who performed well on that test were less likely to feel depressed when they were questioned again in the seventh grade, even with weight and depression symptoms were taken into account.
"A student's physical activity level may change from week to week, whereas fitness is a result of more prolonged physical activity," Ruggero noted.
Unsurprisingly, researchers found that having depressive symptoms in the sixth grade predicted having depression in the seventh grade. But once they controlled for this, fitness was an important factor in curbing students' depression a year later.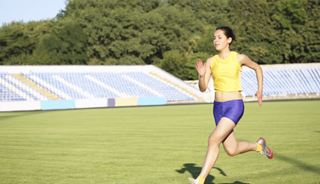 Fitness Curbs Depression in Middle School Girls
A new study suggests that physically fit sixth-graders — especially girls — are less likely to report feeling
depressed
when they reach seventh grade.
Sign Up for Free e-newsletters
Check out what's trending