January 08, 2015
Depressive Thoughts Can Worsen Memory
the Psychiatry Advisor take:
In people with depressed mood, depressive thoughts can have a negative impact on a person's memory, according to a study published in the journal Cognition and Emotion.
However, when people with depressed mood are not experiencing depressive thoughts, their memory functions as well as people with non-depressed mood, the researchers reported.
Patients suffering from depression have reported that issues with memory and concentration make up some of the most difficult part of the disorder. However, no previous studies had been able to observe these symptoms in a laboratory setting.
The study included 157 undergraduate students who completed a computer-based depression inventory that measured depressive symptoms experienced over the previous 2-week period. The results classified 60 participants as having depressed mood and 97 as having non-depressed mood.
Each participant then took a test that assessed working memory. They were asked to respond to true-or-false sentences, some with depressive thoughts (such as "I am sad," or "People don't like me") and others with neutral statements (such as "Most people agree that Monday is the worst day of the week"). After responding, participants were asked to remember a string of numbers.
When presented with depressive statements, participants with depressed mood performed 12% worse on the memory test than participants with non-depressed mood. However, when presented with neutral statements, both depressed and non-depressed participants showed similar results.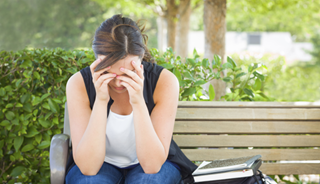 Depressive Thoughts Can Worsen Memory
For people with depressed mood, memory and concentration difficulties are often a day-to-day reality, greatly affecting job performance and personal relationships. While those with the disorder report that these cognitive problems are some of the most deeply troubling, previous studies have been unable to observe this phenomenon in a laboratory setting.
In a study published online in Cognition and Emotion, researchers at the Center for Brain Health at The University of Texas at Dallas are the first to substantiate memory deficits in individuals with depressed mood. The findings may have implications for the way cognitive deficits are diagnosed and treated in depression.
Sign Up for Free e-newsletters
Check out what's trending