March 20, 2015
Depression Worsens Working Memory
the Psychiatry Advisor take:
Dysphoria can reduce the capacity of working memory, according to a study published in the journal Cognition and Emotion.
Previous studies have established that people with dysphoria, a prolonged depressed mood, or clinical depression stay attuned to mood-congruent information for longer periods of time than people without depressed mood. The researchers wanted to build on this information, testing both working memory and processing speed.
The researchers carried out three studies with different recall tasks. The first one had neutral inference; the second had depressive interference (negative statements about mood); and the third repeated the first two studies while focusing on processing speed and recall.
In the first study, the results indicated no significant difference between the working memory capacity of dysphoric participants and non-dysphoric participants. However, the results changed with the introduction of depressive interference in the second study. The dysphoric individuals had trouble switching focus from the negative thoughts which seemed to limit the amount of available working memory they had for the task.
The results indicate that people with depressed mood respond to mood-congruent information with controlled attention deficits.
Memory and concentration difficulties are symptoms of both clinical depression and dysphoria, and the results of this study provide more clarity on the link between these symptoms and the conditions.
Further studies may focus on how reduced working memory impacts the daily lives of people with depression, potentially leading to methods for improved well-being.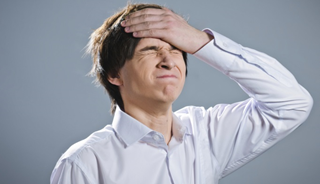 Depression Worsens Working Memory
A new study in the journal Cognition and Emotion illustrates the link between reduced working memory capacity and dysphoria, a significant and prolonged depressed mood related to clinical depression.
Building on the knowledge that dysphoric individuals and clinically depressed people maintain their attention on 'mood-congruent' information longer than people without depressed mood, Nicholas A. Hubbard and his colleagues carried out three studies to test both working memory and processing speed.
The first was a recall task with 'neutral' interference, the second a variation of the first with 'depressive' interference in the form of negative statements about mood, and the third a replication of the first two studies with a focus on processing speed and recall.
Sign Up for Free e-newsletters
Check out what's trending