October 12, 2015
Many Workers With Depression Don't Seek Treatment
the Psychiatry Advisor take:
Many workers who say they have symptoms of depression do not think they need treatment for it.
Carolyn Dewa, PhD, MPH, head of the Centre for Addiction and Mental Health's Centre for Research on Employment and Workplace Health in Toronto, Canada, and colleagues polled 2,200 adults about depression and mental health services.
While as much as 40% of respondents experienced significant depressive symptoms, 53% didn't recognize a need to seek help, the researchers reported in the Journal of Occupational and Environmental Medicine.
The researchers also assessed attitudinal barriers — such as stigma of mental illness and the belief that treatment is ineffective — and structural ones, including financial limitations and difficulty accessing appropriate mental health care.
In addition, they developed a model to help employers identify key barriers to treatment to increase the use of mental health services among workers with symptoms of depression. The researchers determined that by removing the barrier caused by the unrecognized need for treatment, there would be a 33% decline in work productivity loss.
"It's important for employers to know where to start when it comes to tackling productivity loss related to untreated depression," Dewa said in a statement. "Our study suggests that helping workers understand when they should be seeking help would significantly boost work productivity."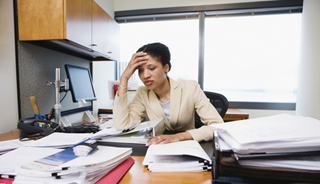 More than 50% of workers who said they were experiencing depressive symptoms said they didn't feel the need to seek help.
A Canadian study suggest more than half of workers who report symptoms of depression do not perceive a need for treatment.
The study, published in the Journal of Occupational and Environmental Medicine, investigated barriers to mental health care experienced by workers and the resulting impact on productivity.
Investigators discovered as many as 40% of participants were experiencing significant depressive symptoms and, of that group, 52.8% did not recognize a need to seek help. Similar rates have also been observed in population studies in the United States and Australia.
Sign Up for Free e-newsletters
Check out what's trending