September 28, 2015
Better Screening, Fast-Acting Meds Could Prevent Suicides
the Psychiatry Advisor take:
Improved screening for suicidal thoughts for people of all ages, as well as the development of fast-acting medications, could help to stem the number of suicide attempts annually.
John Zajecka, MD, of Rush University Medical Center, and colleagues, say that despite many treatments available to treat depression, the suicide rate has been increasing since 2000. This threat is particularly high among school-aged children. The CDC reports that in 2013, 8% of students in grades nine to 12 attempted suicide and 17% seriously considered doing it.
Mark Pollack, MD, chairman of Rush's Department of Psychiatry, said that one way to prevent suicides would be to increase screenings for suicides in all medical settings. "There's been a reluctance in medical and other settings to ask about suicides and risk factors like depression," he said, noting that it is a mistake for practitioners to think that asking about suicide will "put the idea in their heads."
Pollack added that most people that commit suicide had interacted with a medical professional in the months before it happened.
Another potential avenue to reduce suicide is research into the use of esketamine (similar to the anesthetic ketamine) to treat depression and significant suicidal thoughts. Studies have shown that has rapid antidepressant effects when given intravenously.
In a new study Zajecka is running, people who have significant suicidal thoughts and have been hospitalized with receive either esketamine in four-day intervals, or a placebo, with both groups receiving standard antidepressant treatment.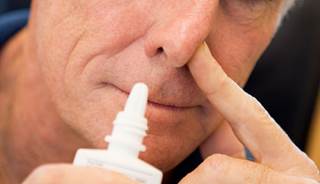 A new study aims to determine whether a nasally administered version of the anesthetic esketamine can treat acutely suicidal patients.
A new national study hopes to determine if a new form of treatment can reduce depression symptoms, including suicidal ideation, quickly.
Experts say a new approach is necessary as on average, every 13 minutes of every day someone in the U.S. commits suicide. Many of those deaths are preventable.
The suicide rate nationwide has been increasing gradually since 2000, with 41,149 suicides taking place in the U.S. in 2013 (the most recent year for which data is available), according to the U.S. Centers for Disease Control and Prevention.
Better screening for suicidal thoughts among patients at all ages could help prevent suicides
Sign Up for Free e-newsletters
Check out what's trending