December 07, 2015
Antidepressants May Thwart Brain Inflammation
the Psychiatry Advisor take:
A selective serotonin reuptake inhibitor (SSRI) may do more than just treat depression. The antidepressant may also have a neuroprotective role by helping to reduce neurotoxic compounds that can destroy brain cells.
Angelos Halaris, PhD, Loyola University Chicago Stritch School of Medicine, and colleagues studied patients who were prescribed escitalopram to see the impact of the SSRI on immune response. Eight percent of patients who completed the trial reported some degree of remission from depressive symptoms.
Recent research has suggested that there is a relationship between depression and an increase in inflammation in the brain. With this in mind, the researchers aimed to find out if an antidepressant could also reverse any harm on the immune system that depression might cause.
The team also took blood samples from the patients to measure the levels of nine chemicals associated with an immune reaction. Eight of them were found to be higher than normal in depressed patients. However, two neurotoxic compounds, 3-hydroxykynurenine and 3-hydroxykynurenine, declined during treatment with escitalopram, the researchers reported in the Journal of Psychiatric Research.
Since the study only involved 20 patients, Halaris is hoping that the results can be replicated, and also tested to see if the neuroprotective effects are seen in other SSRIs.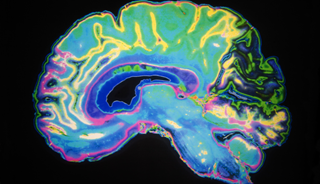 Depressed patients who took the SSRI escitalopram also saw declines in two neurotoxic compounds associated with inflammation.
New research published in the Journal of Psychiatric Research investigates a potentially neuroprotective role of escitalopram, a common antidepressant drug.
Serotonin, a neurotransmitter derived from tryptophan, plays a myriad of roles in the human body. This chemical, or, to be precise, pathways involving serotonin, have been implicated in depression since the 1960s.
The so-called serotonin theory has been the leading explanation of depression's etiology for many years. This excerpt comes from a landmark paper published in The Lancet in 1969. In other words, the molecular building block of serotonin - tryptophan - is in lower quantities, leading to a decrease in serotonin production. The reduction in serotonin leads to a reduction in mood.
Sign Up for Free e-newsletters
Check out what's trending