October 20, 2014
Depression, Anxiety Risk Elevated in Women Following Heart Attack
the Psychiatry Advisor take:
Women are more vulnerable than men to suffer from anxiety and depression following a heart attack.
Pranas Serpytis, MD, of Vilnius University, Lithuania, and colleagues examined 160 patients who were admitted to the hospital with a heart attack. They then interviewed patients about a month later, which included asking about any history of mental illness.
While nearly 25% of all the patients were found to be depressed after the interview, women were more likely to be depressed and anxious compared to men, the researchers reported at the Acute Cardiovascular Association annual meeting in Geneva, Switzerland.
The researchers based that assessment on scores from the Hospital Anxiety and Depression Scale (HADS), which was used to measure depression. On HADS, getting a score between 8 and 10 indicates possible depression and anxiety, and 11 or higher suggest mild to moderate depression.
Men had an average HADS score of 6.87, while for women, the average was 8.66.
The results also showed that patients with depression after a heart attack are six times more likely to die 6 months after the event, compared to those who were not depressed.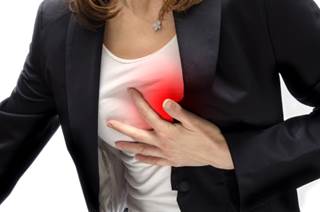 Depression, Anxiety Risk Elevated in Women Following Heart Attack
A new study by researchers from Lithuania claims women are more likely to experience
anxiety
and
depression
following a heart attack than men. Furthermore, patients with depression may be at much higher risk of death in the 6 months after a heart attack than those without depression.
Sign Up for Free e-newsletters
Check out what's trending