February 23, 2015
Cyberbullying Increases Depression Risk for Females
the Psychiatry Advisor take:
Female college students involved in cyberbullying have an increased risk of depression, according to a study published in the journal Cyberpsychology, Behavior, and Social Networking.
Both bullies and victims of cyberbullying showed an increased risk, and bullies were also more likely to report problematic alcohol use.
Previous studies had investigated the effects of cyberbullying on middle and high school students, but there are few studies that look into how it affects college students.
The study included 265 female college students from four colleges. Each participant completed an online survey that assessed their involvement in cyberbullying behaviors. They also completed the Patient Health Questionnaire-9 (PHQ-9) to evaluate depressive symptoms and the Alcohol Use Disorder Identification Test (AUDIT) to evaluate problematic drinking habits.
The researchers found that one in four participants had been involved with cyberbullying during college, including both victims and bullies. The most common behaviors included hacking into another person's account, receiving unwanted sexual advances, being harassed via text message, and posting degrading comments.
Although all participants of cyberbullying had an increased risk of depression, certain behaviors predicted a particularly high risk. Victims of unwanted sexual advances were six times more likely to suffer from depression than a person not involved in cyberbullying.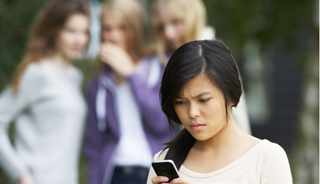 Cyberbullying Increases Depression Risk for Females
Involvement in cyberbullying increases risk of depression in female college students — for both bullies and victims — says a study led by an Indian-origin researcher.
What is worse is that the bullies are also likely to report problem alcohol use, the researchers noted.
"Participants with any involvement in cyberbullying had increased odds of depression and those involved in cyberbullying as bullies had increased odds of both depression and problem alcohol use," said Rajitha Kota from the University of Wisconsin School of Medicine in the US.