November 17, 2014
Could Infectious Diseases Play a Role in Depression?
the Psychiatry Advisor take:
More research should be conducted to determine the role that infectious diseases may play in the etiology of major depressive disorder (MDD), given that symptoms associated with the disease include a loss of energy and studies have shown high levels of inflammatory biomarkers in patients with depression.
The bold call is being made by Turhan Canli, PhD, director of the State University of New York at Stony Brook's SCAN (Social, Cognitive, and Affective Neuroscience) Center, who says that pharmacological treatments for depression have not changed much, even though recurrence is common in people. He also argues that because the causal aspects of depression are not well defined, it is imperative to look at other potential causes.
"Given this track record of MDD, I propose reconceptualizing the condition as some form of infectious disease," Canli said in a statement. "Future research should conduct a concerted effort search of parasites, bacteria, or viruses that may play a causal role in the etiology of MDD."
Regarding the potential future research, Canli, writing in the journal Biology of Mood & Anxiety Disorders, cites evidence that bacteria and organisms infect humans in a way that can impact mental behavior.
"I think it would be worthwhile to conduct large-scale studies of carefully characterized depressed patients and healthy controls, using gold-standard clinical and infectious disease-related study protocols," he writes in his conclusion. "Such efforts, if successful, would represent the 'end of the beginning,' as any such discovery would represent the first step toward developing a vaccination for major depression."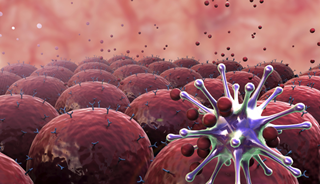 Could Infectious Diseases Play a Role in Depression?
Major depressive disorder (MDD) should be re-conceptualized as an infectious disease, according to Turhan Canli, PhD, Associate Professor of Psychology and Radiology at Stony Brook University. In a paper published in Biology of Mood & Anxiety Disorders, Canli suggests that major depression may result from parasitic, bacterial, or viral infection. He presents examples that illustrate possible pathways by which these microorganisms could contribute to the etiology of MDD.
MDD remains highly prevalent disease with some 15 to 20% of the population experiencing MDD at some point. Recurrence is common, and pharmacological treatments have not changed. Because the causal aspects of the disease are not clearly defined, research to find causes remains paramount to help improve treatments.
Sign Up for Free e-newsletters
Check out what's trending