March 17, 2015
Cannabis May Increase Bipolar Symptoms
the Psychiatry Advisor take:
For people with bipolar disorder, using cannabis may increase manic or depressive symptoms, according to a study published in PLOS ONE.
In the United Kingdom, approximately 2% of the population has bipolar disorder, with an estimated 60% of those people using cannabis at some point in their lifetimes.
The study included people in the United Kingdom who had been diagnosed with bipolar disorder who were not currently experiencing a manic or depressive episode during the 6-day study period. Each participant self-reported their emotional state and drug use during the study period.
Participants detailed different reactions to cannabis in their daily reports, with some saying that the drug elevated their mood and others saying it made them anxious, paranoid, or depressed.
The results showed that participants were more likely to use cannabis when they were in a good mood. Cannabis use was associated with an increase in positive mood, manic symptoms, and depressive symptoms. Participants who experienced more positive mood or manic symptoms were not the same participants who experienced increased depressive symptoms, indicating that cannabis can have varying effects.
Overall, the results did not indicate that the participants used cannabis to self-medicate, despite its association with changes in mental state.
The researchers believe further studies are warranted to see how cannabis use interacts with bipolar disorder over longer periods of time.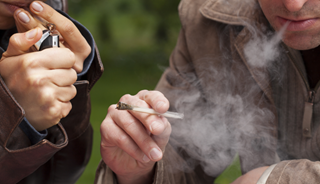 Cannabis May Increase Bipolar Symptoms
Cannabis use is linked to an increase in both manic and depressive symptoms in people with bipolar disorder, according to a new study by Lancaster University.
The study is the first to examine the use of cannabis in the context of daily life among people with bipolar disorder. In the U.K., where the study took place, around 2% of the population suffers from bipolar disorder, with up to 60% of those using cannabis at some point in their lives.
Research in this area is limited, however, and reasons for this high level of use are unclear.
Sign Up for Free e-newsletters
Check out what's trending