February 05, 2015
Brain-Matter Loss Common In Many Psychiatric Conditions
the Psychiatry Advisor take:
Gray-matter loss in three brain structures is common in several psychiatric conditions, including schizophrenia, depression and addiction, giving credibility to the idea that mental disorders should be characterized by underlying brain pathology rather than principally by their symptoms.
Amit Etkin, MD, PhD, of Stanford University, and colleagues conducted a meta-analysis of 193 peer-reviewed studies that included almost 16,000 people, both with mental illness and health controls. Psychiatric conditions seen in the studies also included bipolar disorder, anxiety and obsessive-compulsive disorder.
Gray-matter loss was found across diagnoses in three regions: the dorsal anterior cingulate (dACC), right insula and left insula. In analyses of the three healthy participant data sets, the common gray matter loss regions were an interconnected network during tasks and at rest and that lower gray matter in this network was associated with poor executive functioning, the researchers reported in JAMA Psychiatry.
Etkin noted that three regions act as an "alarm bell" of the brain, and that signaling from them to other brain regions is associated with high-level functions including planning and decision-making.
"These results do not imply that phenotypic differences between diagnoses are negligible….Nonetheless, the fact that common structural changes are seen despite potentially differing etiologies raises the possibility that some interventions that target the anterior insula and dACC may prove of broad use across psychopathology," the authors conclude.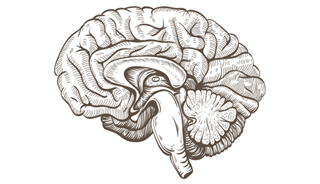 Brain-Matter Loss Common In Many Psychiatric Conditions
In a study analyzing whole-brain images from nearly 16,000 people, researchers at the Stanford University School of Medicine identified a common pattern across a spectrum of psychiatric disorders that are widely perceived to be quite distinct.
The meta-analysis of 193 peer-reviewed papers, published Feb. 4 in JAMA Psychiatry, reports a loss of gray matter in three brain structures that, although physically separate, participate in a network associated with high-level functions, including planning and decision-making.
The findings call into question a longstanding tendency to distinguish psychiatric disorders chiefly by their symptoms rather than their underlying brain pathology.
Sign Up for Free e-newsletters