February 02, 2015
Brain Inflammation Linked to Depression
the Psychiatry Advisor take:
Researchers have found a link between clinical depression and brain inflammation that may open new treatment avenues, according to a new study published in JAMA Psychiatry.
The study included 40 people: 20 who were diagnosed with depression but were otherwise healthy and 20 controls. The researchers took brain scans of each participant.
Participants with depression were more likely to have higher rates of brain inflammation compared with controls, and those with the most severe depression had the most severe inflammation. Patients with depression had an average of 30% more brain inflammation than controls.
While the study does not make it clear if depression causes inflammation or vice versa (or if it's only a correlation), the link has implications for further research and treatment options.
Acute inflammation is a protective mechanism, but chronic inflammation causes simultaneous destruction and reparation of tissue that harms the body in the long term. Usually, inflammation is triggered by physical injury or infection.
However, previous research has shown that stress and emotional trauma can cause inflammation by readying immune cells to fight infection when there is no infection. Depression may cause a similar response, but more research is needed to draw conclusions.
Currently, there are no FDA-approved treatments to treat brain inflammation in depression. However, a 2014 study showed that anti-inflammatory treatments reduced depressive symptoms in patients.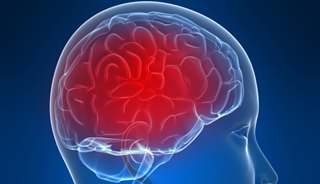 Brain Inflammation Linked to Depression
Diagnosing a patient with clinical depression can be difficult; depression is a complex illness that can be caused by one or a mix of many things, from environmental stressors to genetics. But a new study out of the Centre for Addiction and Mental Health (CAMH) has highlighted a link between clinical depression and brain inflammation that might be crucial in better understanding stress and depression's physical impacts on the body, as well as in developing better treatments for these mental health issues.
In the study, published in JAMA Psychiatry, the researchers found that people with clinical depression had a 30% increase in brain inflammation, also referred to as neuroinflammation. It's uncertain whether the inflammation caused the depression or vice versa, or if it's simply a correlation. But the study makes it clear that the link should be further examined.
Sign Up for Free e-newsletters