July 07, 2015
SSRI Antidepressants Exacerbate Rapid Cycling in Bipolar Disorder
the Psychiatry Advisor take:
In bipolar disorder, selective serotonin reuptake inhibitor (SSRI) antidepressants can exacerbate rapid cycling, according to a study published in the Journal of Affective Disorders.
The study included 68 participants with "clinically recovered" bipolar disorder, 18 of whom had rapid cycling. Each had been treated with SSRIs following a depressive episode. Participants were followed for at least two months while taking both an antidepressant and a mood stabilizer. Patients were then randomized into two groups: antidepressant continuation or discontinuation. Follow-up was one year.
Most of the participants who continued with an SSRI experienced few to no depressive episodes. However, those with rapid cycling in this group experienced an average of two to four depressive episodes.
In one year of follow-up, rapid-cycling participants in the SSRI continuation group experienced 268% more total mood episodes and 293% more depressive episodes compared with non-rapid cycling participants. These disparities were not seen in the discontinuation group.
"In this sample, long-term continuation of antidepressants was associated with more mood episodes in patients with rapid-cycling bipolar disorder, particularly with three-fold increased rate of depressive episodes in the first year of follow-up," the researchers wrote.
The results of this study support previous evidence of a lack of efficacy and safety for antidepressant use in the long-term treatment of bipolar disorder, they added.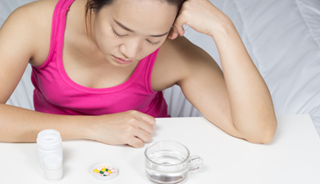 SSRI Antidepressants Exacerbate Rapid Cycling in Bipolar Disorder
SSRI antidepressants are linked to deteriorating emotional rapid cycling in patients suffering from bipolar disorder, researchers suggest.
According to study published in the Journal of Affective Disorders, psychiatric researchers initiated a randomized study to further certify the "lack of safety" that antidepressants may have on a huge portion of people with bipolar disorder.
Researchers from the University of Louisville, Tufts, Stanford, and the University of Pennsylvania, performed a secondary analysis of the Systematic Treatment Enhancement Program for Bipolar Disorder (STEP-BD), to better understand the relationship betweenrapid cycling and antidepressants.
Sign Up for Free e-newsletters