November 05, 2014
App Could Use Speech Analysis To Aid in Depression Diagnosis
the Psychiatry Advisor take:
An app could be developed that may help in the diagnosis of depression by analyzing individuals' speech patterns.
Carol Espy-Wilson, a depression acoustician at the University of Maryland, and colleagues conducted research that found that people's vocal patterns change as symptoms of depression worsen. Software under development could be used to make a rough diagnosis, in conjunction with an individual's self-reported symptoms.
The team used data from six patients from a previous study examining depression and speech patterns. They found that there was a correlation between when patients said they were depressed and certain acoustic patterns.
When patients said their depression was at its worst, their speech tended to be breathier and slower. The team also found increases in jitter and shimmer, two measures of acoustic disturbance that measure the frequency and amplitude variation of the sound. Results were presented at the Acoustical Society of America meeting late last month.
The researchers plan to conduct the study again, but in a larger population. They will compare speech patterns in individuals with no history of mental illness to those with depression to create an acoustic profile of depression-typical speech.
They add that a phone app could use this information to analyze patients' speech, identify acoustic signatures of depression and provide feedback.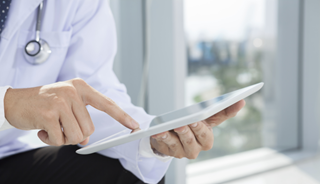 App Could Use Speech Analysis To Aid in Depression Diagnosis
Many smartphones use motion sensors to offer users feedback about their fitness and health, but a new generation of apps currently under development in the U.S. could also diagnose mental health issues by analzsing individuals' speech patterns and social activity.
Research published last by scientists from the University of Maryland found that patients' vocal patterns change as feelings of depression worsen, and that software could be used to perform a rough diagnosis — rather than relying solely on individuals' self-reporting problems. Lead acoustician Carol Espy-Wilson and her team analyzed data from a 2007 study and found that patients at their lowest ebb tended to have breathier and slower speech with increased 'jitter' and 'shimmer' — variations in pitch and loudness respectively.
Sign Up for Free e-newsletters
Check out what's trending