September 28, 2015
Antipsychotic Plus Antidepressant Helps Treatment-Resistant Depression
the Psychiatry Advisor take:
Adding the antipsychotic aripiprazole (Abilify) to antidepressant treatment may help depressed patients who fail to get better on an antidepressant alone.
Eric J. Lenze, MD, of Washington University School of Medicine in St. Louis, and colleagues enrolled 468 people over the age of 60 with depression. The study is the largest of its kind undertaken in older people with depression. Older research has indicated that a low dose of aripiprazole in younger people with depression who failed on an antidepressant alone helped improve symptoms.
In the new study, participants received extended-release venlafaxine (Effexor XR). After 12 weeks of treatment, nearly 50% were still clinically depressed. In the second phase, those who did not response to venlafaxine continued on it along with aripiprazole or a placebo.
In those who received the two-drug combination, 44% achieved depression remission, the researchers reported in The Lancet. In the placebo group, only 29% did. Although some patients on the two-drug combination experienced restless and stiffness, known as mild Parkinsonism, they were mild and short-lived.
"One of the things we see as critical to our future research will be trying to better understand the factors that make some people respond to specific forms of treatment that may not work for others," Lenze said in a statement.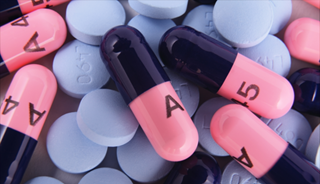 44% of depressed participants who received the antipsychotic aripiprazole in addition to an antispychotic achieved remission.
More than half of older adults with clinical depression don't get better when treated with an antidepressant. But results from a multicenter clinical trial that included Washington University School of Medicine in St. Louis indicates that adding a second drug -- an antipsychotic medication -- to the treatment regimen helps many of those patients.
Previous research in younger patients with depression showed that adding a low dose of the antipsychotic drug aripiprazole (brand name Abilify) helped relieve symptoms of depression when an antidepressant alone wasn't effective. But the new study is the first to show that the same strategy also works in older adults. The two-drug combination relieved depression in a significant number of patients and also reduced the likelihood that they would have suicidal thoughts.
Sign Up for Free e-newsletters