January 12, 2015
Substance Abuse in Elderly Growing Health Concern
the Psychiatry Advisor take:
The number of seniors expected to suffer from alcohol abuse is expected to double by 2020 as the United States faces a growing public health issue of substance issue among the elderly.
The rate of illegal drug use among adults over 50 has more than doubled between 2002 and 2013. While most of these seniors are retired, a new study says that retirement alone is not responsible for the high incidence of substance abuse in this population.
Peter A. Bamberger, PhD, of Tel Aviv University, Israel, and Samuel B. Bacharach of Cornell University, Ithaca, New York, conducted a 10-year study that involved an annual phone-based survey of 1,200 service, construction, and manufacturing workers aged between 52 and 75.
Older adults often lack the skills to adequately cope with stressful life events following retirement, such as deteriorating health and the death of a spouse or friends, the pair write in the Journal of Work, Aging and Retirement.
"Financial strain and marital strain, both potential consequences of retirement, elicited problems with sleep," Bamberger said in a statement. "This in particular explained much of males' misuse of alcohol."
Bamberger and Bacharach write that clinicians should take action, including screenings and brief interventions to identify behavioral changes that could lead to substance abuse.
"Even short phone calls or brief Internet-based feedback can be so instrumental," Bamberger said. "The other way of reversing this trend is to provide ways of coping with the stresses of retirement."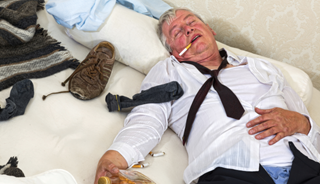 Substance Abuse in Elderly Growing Health Concern
Substance abuse issues among the elderly represent a growing public health concern. Researchers say that close to three million Americans aged 55 and older suffer from alcohol abuse — and this figure is expected to reach nearly six million by 2020.
Moreover, the rate of illicit drug abuse in adults over 50 more has more than doubled between 2002 and 2013.
Many of the older Americans suffering from substance abuse are retired. But new research suggests it is not retirement alone that leads to drug and alcohol abuse.
Sign Up for Free e-newsletters
Check out what's trending