July 28, 2014
Spousal Caregiving Elevates Depression Risk
the Psychiatry Advisor take:
Caring for an older adult can be stressful, especially when the caregiver is the spouse of the patient. And new evidence shows that spousal caregivers have an elevated risk of developing depression as a result.
Benjamin D. Capistrant, ScD, an assistant professor at the University of Minnesota School of Public Health, and team looked at the married and depression-free Health and Retirement Study for those aged 50 years and older (n=9,420) from 2000 to 2010.
Current (at least 14 hours per week of help with daily living activities) and long-term caregiving (care at two consecutive surveys) were used to predict onset of depressive symptoms (at least three on a modified Centers for Epidemiologic Studies Depression Scale)
Results, published in The American Journal of Geriatric Psychiatry, indicate current caregiving was associated with significant elevations in risk for depression onset (hazard ratio: 1.64; Wald χ2, 1 df: 28.34; P<0.0001). Effect estimates for long-term caregiving were similar (HR: 1.52, Wald χ2, 1 df: 3.63; P=0.06).
"Current spousal caregiving significantly predicted onset of depression; the association was not exacerbated by longer duration of caregiving," the researchers concluded.
A 2010 study in the Journal of American Medical Association found that elderly spousal caregivers that experienced mental or emotional strain were 63% more likely of dying compared to those who were not caring for a spouse.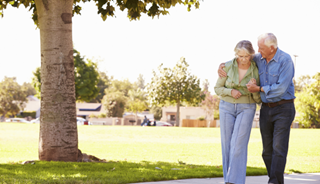 Spousal Caregiving Elevates Depression Risk
The objective of the study is to assess the association of current and long-term spousal caregiving with risk of depression in a nationally (U.S.) representative sample of older adults.
Sign Up for Free e-newsletters
Check out what's trending