December 11, 2015
Negative Views About Aging May Affect Hearing, Memory
the Psychiatry Advisor take:
Negative perceptions about aging in older adults can affect performance on hearing and memory tests, according to research published in Psychology and Aging.
The study — the first on the subject — included 301 participants aged 56-96. Study participants completed a series of hearing and memory tests, followed by assessments of their views on aging. Study author Alison Chasteen, PhD, of the University of Toronto, and colleagues ultimately uncovered an important link between negative views of aging and self-confidence: participants who held negative views about aging performed more poorly on memory and hearing tests.
"That's not to say all older adults who demonstrate poor capacities for hearing and memory have negative views of aging," said Professor Chasteen said. She also added that "it's not that negative views on aging cause poor performance in some functions, there is simply a strong correlation between the two when a negative view impacts an individual's confidence in the ability to function."
However, "knowing that changing how older adults feel about themselves could improve their abilities to hear and remember will enable the development of interventions to improve their quality of life," wrote Professor Chasteen and colleagues.
Professor Chasteen further emphasized the need to understand more about the factors that influence older adults on a daily basis, pointing out a potential benefit from teaching older adults how they can positively impact their own aging experience.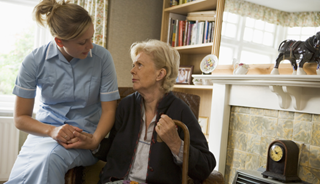 Older adults who have negative views on aging tend to perform more poorly on hearing and memory tests.
Older adults who have negative feelings about aging also perform less well in tests of hearing and memory when the negative feelings appear to undermine confidence in their ability to hear and remember things.
This was the finding of the first study to look at associations among three variables in the same group of older adults: views on aging, self-perceptions about one's hearing and memory ability, and one's actual performance in those skills.
The study, led by the University of Toronto in Canada, is published in the journal Psychology and Aging.
First author Alison Chasteen is a professor of psychology whose research interests include stereotyping across the lifespan and cognitive processes such as memory and attention in social contexts.