October 30, 2014
Many Types of Exercise Benefit Cognitive Function in Seniors
the Psychiatry Advisor take:
A growing body of evidence supports the idea that exercise is good to maintain cognitive function, and possibly ward off neurocognitive disorders. Even exercise that is less intensive than aerobic activities can improve executive function as people age, according to a new study.
Nicholas Berryman, PhD, of the Institute of Geriatrics at the University of Montreal, enrolled 47 health adults aged between 62 and 84 years old into one of three exercise groups: aerobic exercise; strength training; and tasks that focused on gross motor activity, such as balance and coordination.
Each exercise session took place three times a week over eight weeks.
While physical fitness only improved in the aerobics and strength training groups, all three saw improvement in cognitive performance, the researchers reported in the journal AGE. Cognitive performance was measured with a standard test of executive function called random number generation.
The activities that were done in the third group are easy enough that they can be done at home, avoiding a trip to the gym, which can be off-putting for some seniors.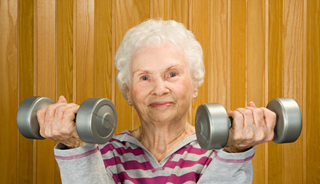 Many Types of Exercise Benefit Cognitive Function in Seniors
Many studies have told us exercise is good for the brain. But does it depend on the type of exercise? New research suggests not — at least for seniors. A study of older people found the brain benefits from many types of physical activities - and you don't have to go to the gym to do them.
The researchers say their results are encouraging news for older people who may be put off exercising just because they are reluctant to go to a gym.
Sign Up for Free e-newsletters
Check out what's trending