November 10, 2014
Home Nurses Integrating Depression Care Benefits Elderly
This article originally appeared
here.
the Psychiatry Advisor take:
A depression care management program integrated into routine practice by home health care nurses can reduce depression in patients with moderate-to-severe forms of the disease.
Martha L. Bruce, PhD, MPH, of the Department of Psychiatry at Weill Cornell Medical College, New York, and colleagues also found that the depression intervention program showed no benefit in those with mild depression.
The Depression Care for Patients at Home (Depression CAREPATH) trial enrolled 178 home health care nurses trained to manage depression in a home setting. Each nurse was randomly assigned to either a Depression CAREPATH intervention teams or a usual care team.
More than 300 elderly patients with depression were cared for in the study. Follow-up was performed at 3, 6, and 12 months.
While enhanced usual care interventions had no effect on depression, the care management intervention was effective in reducing depressive symptoms in patients that had high depression scores., the researchers reported in JAMA Internal Medicine.
In a commentary accompanying the article, Constantine G. Lyketsos, MD, of Johns Hopkins Bayview Medical Center, Baltimore, Maryland, said that the results of the trial provide "robust proof of the principle that good mental health outcomes for depressed individuals with complex chronic medical conditions receiving care at homes are possible and can be delivered as part of routine medical care, without further burdening existing service provision."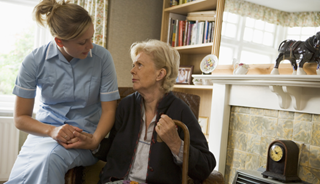 Home Nurses Integrating Depression Care Benefits Elderly
Medicare home health care nurses effectively integrated a depression care management program into routine practice but the benefit appeared limited to patients with moderate to severe depression, according to a report published online by JAMA Internal Medicine.
Clinically significant depression affects more than 25% of older patients who receive home health care services. The high prevalence is consistent with the disability, illness and psychosocial stressors that characterize these patients, according to background information in the study.