April 27, 2015
Considerations When Prescribing For Geriatric Patients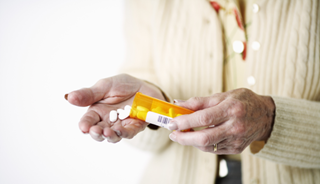 Considerations When Prescribing For Geriatric Patients
The geriatric population represents both a unique and sensitive patient population, so when it comes to the administration of medication, special considerations must be taken to ensure that appropriate treatment and care is provided each time. Geriatric psychopharmacology can prove to be quite challenging because as a clinician, one must consider the co-existing physical or medical issues in a patient before prescribing any psychoactive medications.
Geriatric patients can experience a decline in renal and hepatic functioning with age and can also be more prone or sensitive to side effects. In general, the use of antidepressants (selective serotonin reuptake inhibitors, mirtazapine, trazodone) and electroconvulsive therapy have been shown to be effective in elderly patients, especially in treatment of depression.1
On the other hand, tricyclic antidepressants should be avoided due to their anticholinergic effects. Benzodiazepines can cause cognitive impairments, and antipsychotics use, especially in elderly patients with dementia, has been associated with an increased risk of mortality as a result of infections, pneumonia, or cardiovascular complications.2
Similar to the other special populations, the use of psychopharmacologic agents in the geriatric population must be given careful consideration before it is initiated as it can be subject to misuse. The geriatric population can present potential problems in taking these medications because there may be a decreased ability to metabolize some of these drugs, low serum protein levels that can lead to relatively higher levels of the free drug, and they also may have an increased to side effects that can lead to central nervous side effects including delirium tremor or tardive dyskinesia.1
The misuse of these medications in the geriatric population can come from administering them even though the patient may have a compromised cardiovascular system, renal, or liver function, and appropriately dose modifications are not made as a result.2
Whether it is the use of antidepressants, hypnotics, mood stabilizers, antipsychotics, or medications that are used for dementia, a clinician must be aware of the full functional capacity of a geriatric client before initiating a psychopharmacologic medication. Just as in the pediatric population, few trials are conducted in the geriatric population because most clinical trials are controlled and recruit healthy individuals with normal organ functioning who are fully developed. This can pose a problem as there can be impairments or dysfunctions within the geriatric population.
Lastly, the treatment of geriatric patients must be met with certain considerations because of the wide array of problems that can be associated with prescribing psychotropic medications in this population. Similar to the pediatric and pregnant populations, a careful assessment of the person's medical and psychiatric condition must be performed before the decision is made to start any psychoactive medication.
Abimbola Farinde, PharmD, MS, is a clinical staff pharmacist at Bayshore Medical Center in Pasadena, Texas, with a specialization in psychopharmacology and geriatrics.
References
Schatzberg, AF, et al. Manual of Clinical Psychopharmacology (7th ed.). 2010; Washington, DC: American Psychiatric Publishing, Inc.
Hersen, M., et al. Adult Psychopathology and Diagnosis. (5th ed.). 2007; Hoboken, NJ: John Wiley & Sons.