September 23, 2014
CMS Aims to Reduce Antipsychotic Use in Nursing Home Patients
the Psychiatry Advisor take:
A public-private collaboration that includes the Centers for Medicare & Medicaid Services (CMS) has set a goal of reducing antipsychotic use among long-term nursing home patients by 30% in 2016.
The National Partnership to Improve Dementia Care, whose members include the American Health Care Association and Society for Post-Acute and Long-Term Care Medicine, wants to first reduce use by 25% in 2015.
The move is part of a trend to reduce use of antipsychotics in this patient group that began nearly three years ago. Between the end of 2011 and the end of 2013, antipsychotic use among long-stay nursing home residents fell from 23.8% to 20.2% nationwide.
"We know that many of the diagnoses in nursing home residents do not merit antipsychotics but they were being used anyway," CMS Chief Medical Officer Patrick Conway, MD, said in a statement. "In partnership with key stakeholders, we have set ambitious goals to reduce use of antipsychotics because there are – for many people with dementia – behavioral and other approaches to provide this care more effectively and safely."
In the future, the Partnership will aim to increase the use of non-pharmacologic approaches and patient-centered dementia care practices. CMS will also monitor the reduction to make sure nursing homes do not just replace antipsychotics with other drugs and that patients do not suffer unnecessary cognitive decline as a result.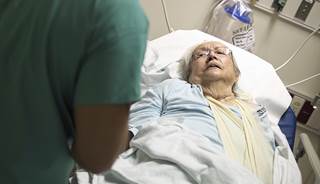 CMS Aims to Reduce Antipsychotic Use in Nursing Home Patients
The Centers for Medicare & Medicaid Services (CMS) and other healthcare organizations are aiming to have use of antipsychotics among dementia patients decreased by 30% in the next two years.
CMS said it's going to keep track of what happens once the antipsychotics will reduced. In addition, CMS will review the cases of residents whose antipsychotics are withdrawn to make sure they don't suffer an unnecessary decline in functional or cognitive status as a nursing home tries to reduce its usage.
Sign Up for Free e-newsletters
Check out what's trending