August 25, 2017
Mood Disturbances in Older Adults with Impaired Vision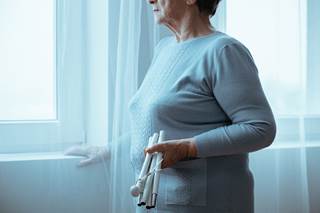 Individuals who at risk of losing their vision often experience higher rates of anxiety than people who have already lost their vision.
Visual impairment "is a term that encompasses those who are blind and those with low vision."1 Factors influencing visual impairment may be contrast sensitivity, light sensitivity, glare sensitivity, and light/dark adaptation.1 Visual impairment can include functional limitations affected by vision loss; legal blindness; self-reported vision loss, which is based on a person's perceived visual ability; total blindness; and diminished vision (difficulty seeing, even when wearing glasses or contact lenses).1
Geriatric patients are at particular risk of developing vision loss. According to the American Federation for the Blind, 6.5 million Americans older than 65 years have a severe visual impairment. It is predicted that by 2030, rates of severe vision loss will double in tandem with the country's aging population.2 The 4 most common age-related eye diseases are glaucoma, age-related macular degeneration (AMD), diabetic retinopathy, and cataracts.2
"There is a high risk of depression in people of all ages who are losing or have lost their vision," according to Sharon Packer, MD, assistant clinical professor of psychiatry and behavioral sciences, Albert Einstein College of Medicine, Bronx, New York.
However, older adults are at particular risk. Among older people with visual impairment, 57.2% are at risk for mild or moderate depression compared with 43.5% of those without vision loss.2
Gradual vs Sudden Loss of Vision
It is important to take a lifespan developmental approach to visual impairment in later life.3 "Lifespan developmental trajectories reveal a complex intertwining of aging, age-normative occurrences (eg, retirement), and non-normative events."3 Late-life visual impairment combines these elements with the nonnormative event of visual impairment. Although loss of vision might be expected, sudden severe and enduring loss can "come as a surprise" for many older adults.3
As difficult as sudden onset of visual loss can be, gradual progression presents its own set of challenges. In addition to depression, individuals who at risk of losing their vision or who are already in the process of experiencing visual loss often experience higher rates of anxiety than people who have already lost their vision. "The anticipation is even worse than the actual event," Dr Packer told Psychiatry Advisor.
The Relationship Between Sensory and Cognitive Decline
Vision status "plays a role when it comes to the connection between cognitive function and everyday competence."3 This linkage is "generally challenged" through the aging process and may result in dependence on others and transition to long-term care. The relationship between vision status and everyday competence is moderated by cognitive status.3 Age-related cognitive decline may have a "particularly dramatic impact" on visually impaired older adults because they are already challenged in their everyday competence.3
Reactive Depression
"I regard depression primarily as an understandable reaction to being unable to engage in previously valued activities," said Barry Rovner, MD, professor of psychiatry and human behavior, Thomas Jefferson University, Philadelphia, Pennsylvania.
"Diminished quality of life, functional losses, loss of independence, helplessness, and social isolation all contribute to the impact of impaired vision on the individual, with resulting depression," he told Psychiatry Advisor.
According to Dr Rovner, the interplay between visual impairment and depression is a vicious cycle.
"The disablement process provides a useful framework for illustrating the impact of depression in AMD. According to this model, disease (AMD) leads to impairment (vision loss), which causes functional limitations (like difficulty reading), which, in turn, bring about disability (the inability to manage finances, for example). Disability, although certainly affected by the impairment, is also affected by psychological factors, such as depression. From this perspective, then, AMD patients with comorbid depression have two sources of disability working in synergy to magnify the disabling effects of each other."4