April 07, 2017
Lower Serum Levels of Antidepressants Found in Cigarette Smokers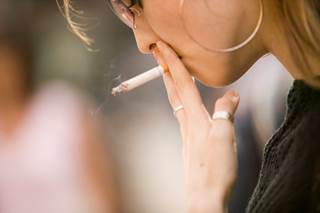 Serum concentration levels of several antidepressants were lower in cigarette smokers vs nonsmokers.
A systemic review published online in the Annals of General Psychiatry found that the serum concentration levels of several antidepressants were lower in cigarette smokers vs nonsmokers.1
New generation antidepressants are the first-line therapy for major depressive disorder (MDD), and although drugs in the same class have similar mechanisms of action, individual responses to each medication can differ substantially. This may be linked with variations in serum concentrations due to cytochrome P450 (CYP), a group of enzymes in the liver. Different subtypes of CYP, which are present in varying amounts in each individual, metabolize the different types of antidepressants and thus affect their rate of elimination.2
Compared with people without depression, smoking is approximately twice as common in people with MDD, according to the Centers for Disease Control and Prevention (CDC): 26% vs 50% in men, and 22% vs 43% in women.3 Cigarette smoke contains polycyclic aromatic hydrocarbons (PAC) that have been shown to induce hepatic CYP isozymes.4
"Given the possibility that some antidepressants are metabolized by CYP induced or inhibited by substances in tobacco, their identification can be a guide for drug initial choice in smoking patients, allowing a more accurate antidepressant selection and consequently improving the pharmacologic treatment of depression in smokers," wrote the investigators in the current study.
To that end, they conducted a systematic review to clarify the effects of smoking on new-generation depressants and to determine whether any observed variations should influence the choice of antidepressant in patients who smoke cigarettes.
They identified 21 studies for inclusion: 7 on fluvoxamine; 2 each on fluoxetine, sertraline, venlafaxine, duloxetine, and mirtazapine; and 1 each on escitalopram, citalopram, trazodone, and bupropion. The total number of patients was 2375 (733 smokers) with an average age of 45.53, and 64.31% were women.
While it was determined that 7 of the 21 studies had a high risk of selection bias and 4 had a high risk of reporting bias, the overall evidence shows that smokers had reduced serum levels of duloxetine, fluvoxamine, trazodone, and mirtazapine compared with nonsmokers.
"These differences raise the possibility of a semi-directed choice in antidepressant treatments, adapting the dose of these drugs and being aware of possible appearances of side effects after smoking cessation," the researchers concluded. Although tools are currently available to quantify CYP activity, until they become more affordable and widely used, personalized treatment for depression "could be based on identifying phenotypes or external variables that influence antidepressant response or side effects."5
References