November 29, 2018
Symptom Structures Differ in Suicidal vs Nonsuicidal Depression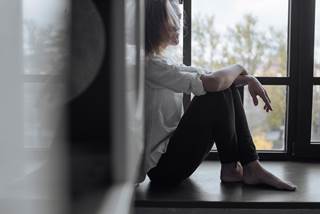 Lack of optimism and hopelessness were key indicators of depression in patients with suicidal ideation.
Patients with major depressive disorder with suicidal ideation have different symptom structures than nonsuicidal patients with depression, including heightened factors of hopelessness and lack of optimism, according to study results published in the Journal of Affective Disorders.
The investigators of this study sought to compare the difference between depressive episodes with suicidal ideation and depressive episodes without suicidal ideation, and whether these episodes were associated with distinct symptom patterns observed in latent variable structures.
The study sample included 919 patients with major depressive disorder recruited from the Netherlands Study of Depression and Anxiety. Participants were divided into 2 groups: patients without symptoms of suicidal ideation (n=691) and patients with 1 or more symptom of suicidal ideation (n=228).
Symptoms of depression and anxiety were analyzed using the short form of the Mood and Anxiety Symptoms Questionnaire, including subscales of general distress or negative affect, anhedonic depression or lack of positive affect, and anxious or somatic arousal. The study investigators tested differences between the groups' symptom structures using confirmatory factor analysis and subsequent multiple-group confirmatory factor analysis, which were then used to test measurement invariance.
The confirmatory factor analysis showed differences in latent variable structures of the nonsuicidal ideation group (comparative fit index [CFI] 0.957; root mean squared error of approximation [RMSEA] 0.041; 90% CI, 0.036-0.045) vs the suicidal ideation group (CFI 0.900; RMSEA 0.056; 90% CI, 0.048-0.063), implying a difference in symptom structure between groups. Subsequent confirmatory factor analysis showed violations of measurement invariance, suggesting the observed differences are less meaningful because of differing symptom constructs between groups.
In the general distress and anhedonic depression subscales, hopelessness and lack of optimism were associated with depression in the suicidal ideation group, while dissatisfaction and not feeling lively were associated with depression in the nonsuicidal ideation group. Overall, the suicidal ideation group scored higher on the anhedonic depression items but with notable lower inter-item correlations.
Limitations to the study were the inclusion of very mild cases of suicidal ideation in the sample and differences in symptom structure that could be due to other factors, such as symptom severity and duration. Furthermore, symptom structure was analyzed for a group of patients and could differ for each individual patient.
The study investigators conclude that depressed patients with suicidal ideation have different factorial structures than those without suicidal ideation, and depression characterized by hopelessness and anhedonia coincide more with suicidal ideation. Further studies should explore the symptoms structures of depression to inform appropriate treatments.
Reference
van Ballegooijen W, Eikelenboom M, Fokkema M, et al. Comparing factor structures of depressed patients with and without suicidal ideation, a measurement invariance analysis. J Affect Disorders. 2019; 245:180-187. doi:10.1016/j.jad.2018.10.108